As a parent homeschooling high schoolers, there is so much to do. So many different subjects, and of course we want our students to excel! Writing is one of those things that seems to come naturally to some students and a little more difficult to others. So many different subjects rely on the student communicating what they have learned through writing, whether it be a paragraph, an essay, or a report.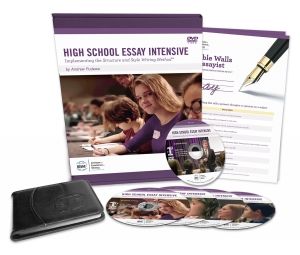 This "kit" is a box with five dvd's (you can actually also use this streaming if you'd rather!) in a nice little case, a "portable wall" which is covered with highlights from the lecture material, and a 26-page packet of papers to use in accompaniment to the videos. This is all housed in a sturdy big box.
I will admit that at the beginning of our review period, when I first told my kids that we had this dvd product to watch and learn about writing they were not too interested. My students are an 11th grade daughter, a 9th grade son, and a 7th grade daughter. I decided to have all three of them give this program a try, so we started in on the first video.
What is this program? It is basically a recorded lecture by Andrew Pudewa of the Institute for Excellence in Writing; a lecture that he presented to a group of high school students to teach them how to do an excellent job at writing in different settings for different purposes. Does this sound boring to you? It is DEFINITELY not!
Just a few minutes into the lecture and my 15-year old son was smiling as he watched, with a few spurts of laughter from all three of them. They were pausing the dvd and filling in information on their worksheets and commenting to each other a bit. That first day we stopped the video after about half an hour and the kids were still enjoying it! We began again the next day and the kids leapt right in! In subsequent days I never got any complaints about watching more of the lesson.
Through participating in this High School Essay Intensive they learned alot of great information about writing, from the basics and "nuts and bolts" to things such as choosing topics and varying sentence style. They learned some different "structures" of essays and how they are organized. They learned how to write an excellent paragraph and how to write a great essay. As appreciated by my more "structured" writer, they learned the TRIAC principle for writing an effective paragraph.
The course is separated into different sections. Part one is "General Strategies for Essay Writing" which is basically what it sounds like :) This is filled with all kinds of information of how to communicate effectively through writing for many different applications. I think it was about 3 hours. Part two is how to write a great essay for the ACT essay section; part three is how to write a great essay for the SAT essay test. Part Four teaches strategies for the "personal essay" as necessary for some things such as college applications or scholarship applications.
My kids and I watched both discs of part one as well as disc 5, which is the personal essay. They used the included worksheets for note taking and practice. Every so often they were asked to pause the disc and write. We were all very impressed with this writing method!
this was my son's "page 217 from my 300 page autobiography" ;)
So what did my children think of it?
My 11th grade daughter wrote:
It was very useful to learn tips and tricks for my writing. It helped a lot with coming up with ideas for writing, and how to make a basic essay, it covered what is expected from various essays, it was very helpful all around. The teacher was very fun, he made it super interesting. He made it seem like something that is easy to do, which it is now! :) The teacher was very good at holding our attention. I would totally recommend this for anyone. Regardless of whether or not you like writing, he makes it fun! :)
My 9th grade son wrote:
The writing class was very helpful for me personally. He clearly explained all of his topics and ingrained it into my memory. Also, he was funny, which made the experience more enjoyable than all writing classes I have ever done.
My 7th grade daughter wrote:
I found these videos very informational, useful, and even funny!
I have actually already seen what they learned reflected in other writing they have done recently. I think the biggest take away that they have all focused on was using different sentence patterns to make their writing more interesting. I look forward to seeing how they utilize this and other methods!
We have found the High School Essay Intensive to be a very enjoyable lecture workshop which is easy to listen to and learn from. The teacher has great relatability and authority. I would definitely recommend this program!
You can read others' thoughts about this product here: