Another road trip, another audiobook! We recently took a trip to my inlaws' house and got to listen to a new audio drama,
Captain Bayley's Heir
by
Heirloom Audio Productions
. We had previously enjoyed a different drama by Heirloom Audio, so we knew we were going to be listening to a top quality production.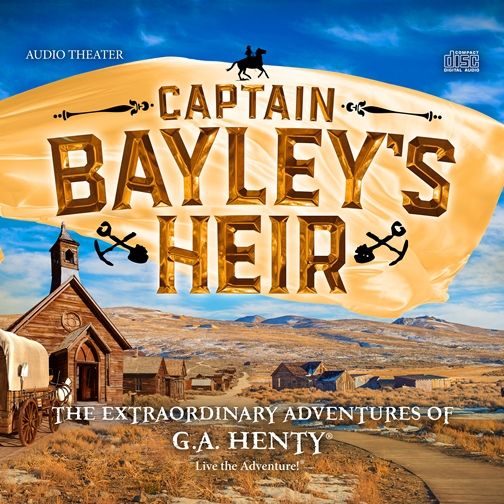 Captain Bayley's Heir is a 2-CD set which actually has an online
study guide
to accompany it, so if you would like it for more than just an entertaining story to listen to, you can expand it into quite a study!
The CD begins with a little introduction of the narrator and then the story really begins. Listeners learn who Captain Bayley is and are introduced to his household, nephew Fred, Alice (not biologically related to him, whom he has taken in and raised) and Frank (an orphaned nephew, raised by the captain as well).
Frank and Fred are students and seem to be in a kind of upper class compared to some in the neighborhoods. Frank befriends a poorer boy (Harry) who cannot walk after he (Frank) saves Harry's dog from drowning. Frank is a good fellow and helps Harry's mother find work with his uncle.
At school, there is an incident which causes Frank to be accused of doing something he has not done, something serious enough to threaten his expulsion from school. He feels that everyone is against him, and when he attempts to get word to his uncle, to see if he, alone, would believe in Frank's innocence, no return letter comes, and Frank is devastated. He (on the advice of Fred) decides to run away to America. He finds a ship which will take him on as an employee and starts his journey across the sea.
Frank endears himself to the ship's crew and upon arrival in America, he is given a recommendation to another job. He takes a job on a flat boat on the Mississippi and experiences scary times, but helps to overcome some rough patches. He is appreciated as a hard and good worker by those he is around. He takes other jobs and adventures which lead him to see a lot of bad in people, but also good. He has folks around him teach him about God's love and grace. Thanks to the riverboat captain he makes his way out west, joining with a group of men and heading to find gold. They have adventures and differing degrees of success, though he still fears the disappointment that he thinks his uncle holds about him. He ends up in the west, looking for gold as well as running another business venture, and...
I don't want to tell too much more of the story :) There are other twists and turns, but I think you ought to listen to it to find out!!
So, what did we think? Well, it was okay :) We being my husband and I and my 3 kids, who are in 12th, 10th, and 8th grade. We definitely thought the story moved kind of slowly and then...zip it was done, kind of dragged until near the end, when it was all wrapped up in a quick nice finale. But all in all a good story! We were a little frustrated with not feeling like some questions had been answered, one being, who is the heir who is mentioned in the title? Was it Frank? Or Alice? Fred? Harry? Captain Bayley's biological daughter? All 5 of us mentioned that we didn't figure out who that was referring to. Weird.
It is definitely a high quality production, easy to listen to, with great actors as the voices. There are themes that naturally cause discussion, which is an added benefit!
If you'd like to read about what others thought, please click on the link below!