My first four years of college were spent in Tennessee, where the glory of the Smoky Mountains is well-known; my family now lives in New England and although my children have experienced mountains of the northeast, they have never had the opportunity to visit the Appalachians of the south. I was happy to get the chance to review and share with my daughter this book,
Smoky Mountains--Here We Come! by Joy Budensiak,
which is one of the episodes in the
By the Way Book Series.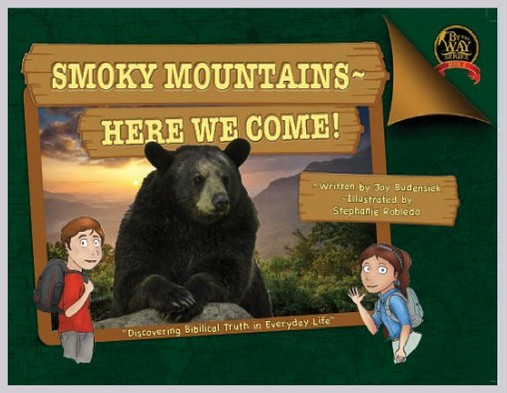 The book I received to review is a lovely hardcover children's book filled with pictures -- both photographs and drawings. There is a story that runs throughout the pages, and facts about the history, geography, and nature of the area are highlighted as well.
The story follows two animated children, Alex and Lexi, who are visiting their Uncle Ted, who is a forest ranger in the Smoky Mountains. As they are visiting, they get to learn about and experience many of the wonders of the Smokies.
As they learn about these special places and things, there are insets within the story pages that go deeper in (non-fiction) explanations about the topics, for instance when they saw white-tailed deer, this information accompanied their story.
Their travels with Uncle Ted take them through all sorts of learning opportunities, such as many different species of animals and plants, historic sites of interest within the park, the Appalachian Trail, waterfalls, the Cherokee, and even geo-caching! Throughout it all, Uncle Ted returns their focus to God, the creator and sustainer of all.
The story is interspersed with little segments of nature facts, photographs of animals and other natural points of interest, historic photos, hymns, drawings, and "did you know's."
So...now that I've introduced you to the book, let me share with you how we used it! My 12-year old daughter was excited to get to read this book, not only since she is studying geography this year, but also because she has a brand new pen-pal who lives near the Smoky Mountains. Since she is twelve, and was excited about the book, I let her read it on her own. She is pretty verbal and enjoyed sharing little tidbits that she was learning as she was reading the book.
As she was reading the book, I had her write down some of the interesting facts that she was learning in the book; we also talked about different parts of it, including what we thought was the author's purpose in writing the book (to bring glory to God and to show people how to notice God throughout nature were our thoughts.)
So what did we think? Was it a valuable addition to our homeschool? Well...here I need to say that 12 years old is the upper limit of this book...perhaps beyond the upper limit. I know that my daughter enjoyed reading the book to learn about the Smoky Mountains and surrounding area, but the little story that carried throughout the book (Lexi, Alex, and Uncle Ted) was definitely written for a younger audience. As a parent I was very glad for the hymns, Scripture, and references to God throughout the book. I know that this book is meant for parents to read with their children, but even a child reading this by himself or herself will have these important principles brought out to them.
My daughter and I both did find the layout of the book a little distracting and hard to follow -- jumping around a lot-- but I believe that this would be easily overcome/overlooked if the book were used in a different way, such as perhaps taken in smaller chunks.
I think that this book would be WONDERFUL to use with your younger children -- reading a page or two a day and discussing and journaling about the topics on that page of the day. There are so many topics covered that you could use this book for weeks! It is written for parents to share with their child/children, but honestly I think it would be great used in a Christian school also -- with an entire classroom -- in the same way.
If you do not currently talk with your family about God and His role in nature and life, this book would serve as a great illustration and easy-to-follow pattern to begin that habit for your family. This is a very valuable aspect of this book to me.
The book itself is a very nice quality hardcover book with engaging pictures that will grab your child's interest and hold it. The author has also written books in this series for several other locations (including
Florida's Treasure Coast
,
Pennsylvania
,
Washington State
,
Ohio
, and
Colorado
), with plans to write more and more in the future!
Check them out at
http://bythewayseries.com/
to find this book about the Smoky Mountains or one of the others listed! On the website you can also find activity books, poster packs, and card packs that go along with the books also!