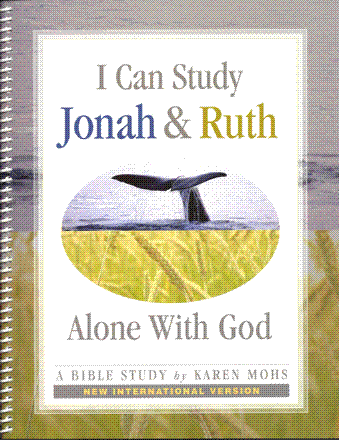 How many of us study the Bible as much as we think we should? What gets in your way? Schedules, family responsibilities, work, sleep, recreation, etc etc and more, right? I know for me, making Bible study at a certain time in my day a habit has really helped with maintaining regular times to read the Bible and pray.
How about kids? Wouldn't it be great for your children to develop habits of reading the Bible and spending time with God, even apart from family Bible times or Sunday School or church? One member of our family (my 12 year old daughter) received this Bible study book,
I Can Study Jonah & Ruth Alone With God Bible Study (13 week study) by Karen Mohs, produced by the company
Greek 'n' Stuff

to use for the purpose of this product review. We chose to review the study prepared for use with the NIV Bible, but there is also a similar publication for those who choose to use the KJV Bible.
The study is set up for use over thirteen weeks, Monday through Saturday. The first 5 weeks the children will read/study from the book of Jonah, and the following 8 weeks from the book of Ruth.
There is an introduction for parents/teachers/students which explains the study and also directs the user to begin each devotion (or study) with praying to God and also reading or reciting the memory verse listed.
After beginning with prayer and reading the memory verse, the student reads a question with a Bible reference following it, as well as lines on which to write their response.
There are also boxes with additional information every week (things like "Is Jonah the only man to be swallowed by a fish?" and "How was barley threshed? Was it hard work for Ruth?" and "How was Obed in the line of Christ?") to further the study and give the student more contextual or historic information, or to assist them in applying the lessons to their lives.
Some of the questions are basically just read the question, read the verse(s), write out the correct answer. Other questions are more thinking questions, such as "Do you think Jonah might have wished he had obeyed God in the first place?"
Each week ends with a little "Think and pray about it" box, which related the learning they have done that week to application in their life.
So what did we think? I mentioned previously that my 12-year old (entering 8th grade this year) was the one to use this study. When I asked her to write a little about it, she wrote:
"I liked this Bible study 'cause I wouldn't normally read the book of Jonah. It was easy, and kind of not really in-depth. I liked it, but it was kind of plain-ish (the book)."
This Bible study was intended for use with middle- to upper-elementary students, and I would agree. At 12, she was a bit older than the intended audience, so it was not exactly what she was wishing for, but I think used in a younger setting it would be nice. It IS plain, black and white, not really illustrated, but I really don't think that's a problem. The focus is on the Scripture, the questions, and thinking it through. It would make a great study for a child to do on their own and then review with a parent (who could then ask the types of deeper application questions appropriate to their child's age or level). As an aid in a Sunday School setting or other classroom setting such as that, it would introduce the child to the material before group discussion.
One thing my daughter got a little hung up on was the days of the week titles. If she missed one day, she felt like she had to just skip that section and go on to the correct day. We talked about that and how it is okay to either just go one by one or do two in one day if necessary. I think that's just basically one of those things that goes along with growing up and realizing that you can do it as you wish to enable you to cover all the material.
I would definitely recommend this Bible study,
I Can Study Jonah & Ruth Alone With God Bible Study (13 week study)
for children who are able to read and write. I think it's a great way to begin a lifelong habit of studying the Bible on one's own. There are many ways this could be used, individually, as a family, as a precursor to group discussion. It is nicely bound in a spiral binding, so it lays flat whichever side you are writing on (definitely a good thing!)
The name of the company who published this study is
Greek 'n' Stuff

which might sound kind of funny until you check out their website and see that they have many different curricula, including many Greek and Latin learning programs as well as more Bible studies. They even have a curricula for French speakers to learn Greek!
To see more reviews on this study, as well as some reviews on other products by this company, please click the link below! :)