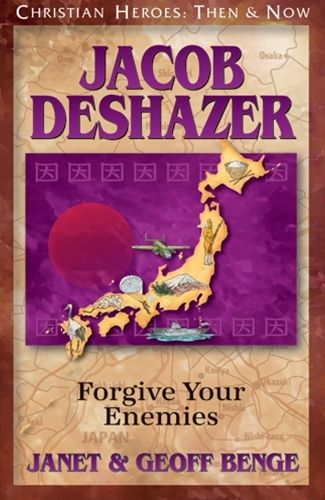 Our family LOVES the series
Christian Heroes: Then and Now

from
YWAM Publishing
. We've read many together as read-alouds in the kids' younger years. My youngest daughter (almost 13) is making her way through a lot of the books, thanks to a friend who allows her to borrow them one at a time. These books are always captivating...drawing the reader in from the first chapter...and full of adventure and a great overview of how the individual became who they were.
For this review, we were blessed to have the opportunity to review
Christian Heroes- Jacob DeShazer
. Jacob's story is subtitled, "Forgive Your Enemies." Jacob was a prisoner of war following the Japanese bombing of Pearl Harbor. Through his imprisonment he became a Christian and turned his life over to the Lord. As an amazing testament to the power of Scripture, Jake returned to Japan as a missionary and chose forgiveness rather than bitterness, anger, and hatred.
Along with this book, YWAM provides a
downloadable study guide
which can be used for homeschoolers (or others interested in using it!) It has several different sections such as Key Bible Verses, Display Corner, Chapter Questions, Student Explorations, Community Links, Social Studies, Related Themes, Culminating Event, and Books and Resources. If you are a unit study family, this is the study for you! There are so many suggestions of how to build a unit curriculum around each of these books!
So how did we use the book? Well, my daughter was so excited when we got it in the mail that she just raced right ahead and read it (as a recreational read). I wanted her to use some of the study guide options as well, so she went back and went through chapter by chapter again to utilize some of these aspects. She enjoyed doing the question and answer sections.
My daughter wanted to write "THE" review for this book, so here's what she said,
"I really enjoyed this book. Jake DeShazer was imprisoned by the Japanese for nearly four years. While he was imprisoned, he received a Bible and became a Christian. When the war was ended, Jake was released and became a missionary to Japan. This book showed the importance of forgiving others fully. If Jake had not become a Christian, he would have hated the Japanese. He served the people who imprisoned him."
These books are written for children to read, but they are equally enjoyable for young adults and adults. My husband actually started reading this one before my daughter had finished it. He wanted to share a little as well! Here's what he said,
"Very captivating and it makes you think of how easy you have it compared to the hardships those POW's went through. The forgiveness he gave to the Japanese people and the love that he showed them by dedicating his life to teaching them about God's love for us is as amazing as any character trait that I've ever read about!"
I definitely recommend this book and the study guide as well if you want to expand your learning about DeShazer, his era, his work, his geography, his Christianity, and more. The overarching theme is forgiveness...which is something that probably applies to all of us (who doesn't struggle with forgiving? Can you imaging needing to forgive something as huge as Jake did?!) Your whole family will probably enjoy reading Jacob DeShazer as well as the other Christian Heroes; Then and Now books by YWAM!
For more reviews of other books in this series and other series by YWAM, check these out!